Phantasy Cards Game App
January 24, 2023
Game Shop App
February 1, 2023
Search Flight App
18,00 €
Introducing the Flight Booking App Design Template with 5 premium screens. Offers various design files, perfect UI, adjustable layers, and organized design. Includes fonts & icons, 100% customizable. Unleash creativity for simple flight booking.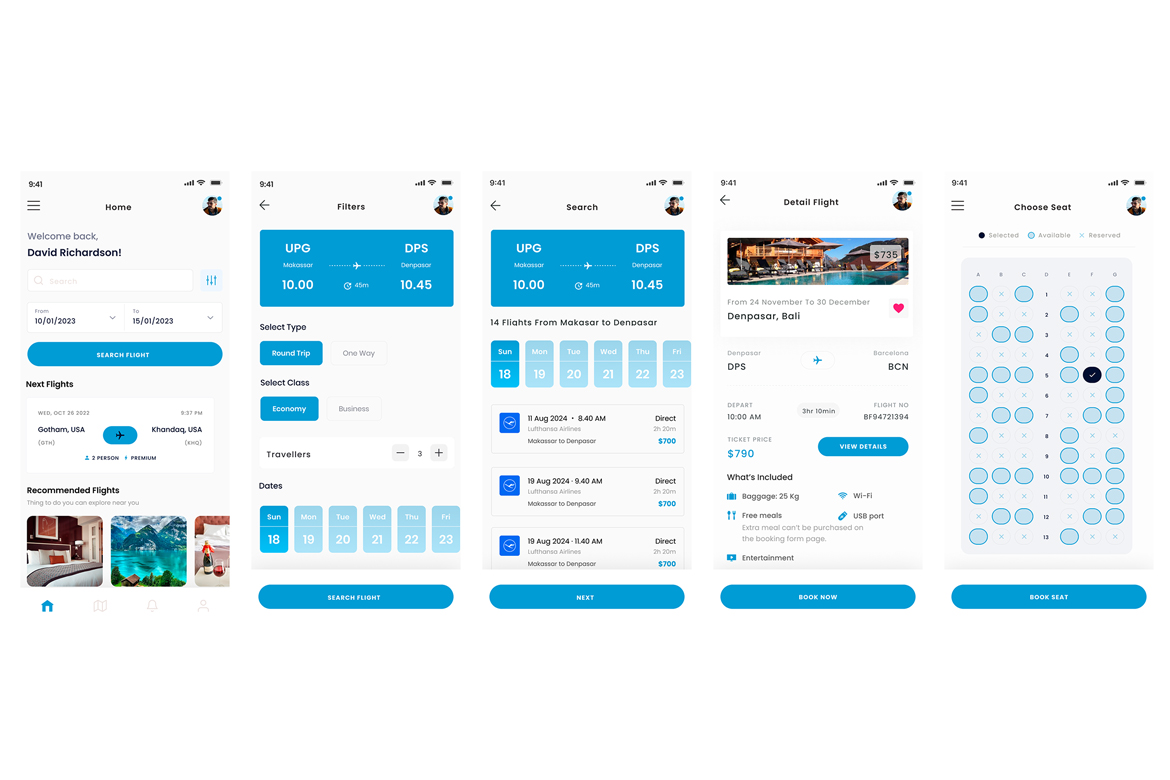 Flight Booking App with 5 screens
Introducing the ultimate Flight Booking App Design Template with 5 high-quality screens to help you create the perfect flight booking app for your customers. This template offers a range of design files in Sketch, Figma, Adobe XD & Adobe Photoshop, so you can choose the one that works best for you. The template features pixel perfect UI elements, customizable layers, fonts & colors, and well-layered & organized designs to ensure ease of use. With free fonts & icons, and 100% customizable vector shapes, the options are endless. Get creative and make the flight booking process easy and seamless for your customers with this template. Note: Images are not included. The 5 screens included are Home, Filter Search Flight, Search Flight, Details flight, and Choose seat. Get started on your next design project today! Buy it now!
Main Features
Sketch, Figma, Adobe XD & Adobe Photoshop templates
Pixel Perfect UI Elements
Customizable Layers, Fonts & Colors
Well Layered & Organized
High Quality Screens
Free Fonts & Icons
100% Customizable Vector Shape
Images not included
Screen included are:
Home
Filter Search Flight
Search Flight
Details flight
Choose seat
Related products
Get our Ophthalmology App template for an easy-to-use, feature-rich project. Sketch, Figma, Adobe XD and Adobe Photoshop files included. Customizable UI elements, layers, fonts, colors, and more. Plus, free fonts, icons, and vector shapes. Get started now!

18,00

€

Introducing Call Recorder App Design Template with 5 screens. Includes Sketch, Figma, Adobe XD & Photoshop files. Pixel-perfect UI, customizable layers, fonts, and colors. High-quality screens, free fonts and icons, 100% customizable vector shapes. Screens are: Home, Register, Record, Start Recording, Play Calls. Get your Call Recorder App Design Template for your project now!

18,00

€

Introducing our new app design template – Calorie Counting! 5 customizable screens to track and monitor calorie intake. Includes Sketch, Figma, Adobe XD and Photoshop template files, fonts, colors, free fonts and icons, and 100% adjustable vector shapes. Monitor calorie intake with Home, Create Account, Meal Plan, Calorie Tracker, and Calorie Statistics screens. Buy it now!

18,00

€